Man dating a bisexual woman: what's it like?
Should I date a bisexual woman? What is it like, dating someone who is bisexual? What are the most popular bisexual dating sites? We will answer all of these questions and more.
Do you have a girlfriend? Does your girlfriend have a female friend with whom she spends a lot of time? Maybe they are not only friends but also have sex?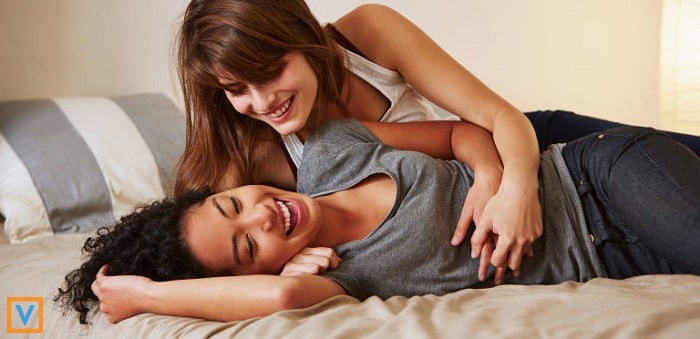 "Lesbian is not so easy to learn. Ask why? Because sometimes you are her husband." From the film" Lenny ", 1974
You come home and find your girlfriend is not alone. But this is not a man but a girl with whom your girlfriend is having sex with. This is not a porn movie script or some men's fantasy, it's quite a real thing. There is an opinion that every third woman is bisexual. According to a poll by Marie Claire, 55% of women would like to try sex with another female. The main condition of such sex is an absence of consequences and it being completely secret. Some females do it.
I know four of my friends, who in their youth had, if not a full sex with another girl, then just cunnilingus. If girls were more open, then more bisexual girls would surface. Women consider this an innocuous "adventure" ... Here are some stories of bisexual women dating:
"We have been together for almost 4 years. My female partner had a good girlfriend, with whom they spent time together. Once I came much earlier home than expected. She was with her friend in bed in a 69 position. She asked to stay, but I could not overcome myself. I left her." Matt.
"I have always been bisexual, but I also had a relationship with men all the time. I got engaged and thought about giving up girls, but I could not. Once I told my husband everything. We argued badly, and he left. But the next day he returned. After a while he again raised this issue. I talked into trying a threesome. He liked this. Who would doubt that! Now we are engaged in WMW constantly, the girls are different. For bisexuals, it is very difficult to give up diversity. Men can give one, women - another. It is important not to confuse love and sex. So far I'm doing well» Katherine
Age of bisexuality
There is a gradation according to the age of bisexuals. In youth (14 to 19 years) girls often only play bisexual. This is done to attract men. From 20 to 35 they understand their desires. They quietly have sex with men and women. Some adult bisexuals "burned up" with men and now fulfill their sexual desires with women.
Female friendship and the first steps of bisexuality of girls
Women's friendship means joint shopping, sharing secrets, walks and periodic spending the night with each other. The beauty of women's bodies attracts not only men but also many women. Often, women want more than just friendship. They want warmth, affection, and sex. Who, if not some other girl, can know about all the subtleties of the female body and orgasm? Among the girls, it is considered normal to kiss each other not only on the cheek but also on the lips. Sometimes they do it in public to irritate men.
Sometimes they do it without outside witnesses. Many girls learn to kiss with their best girlfriend. Pampering in one bed, sharing lodging and alcohol sometimes lead to the fact that the girls are trying to have sex. It will not be a vibrator, strapon or an ordinary banana. Girls are engaged in cuddling, strokes, and cunnilingus. In the morning they will joke about it. This will be their little secret. But after the first sex, there may be a long-term sexual relationship between the girls. They will meet with their boyfriends, periodically changing them, they will get engaged, but they will remain bisexual.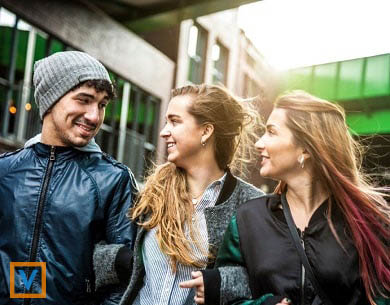 Bisexuals change not only the guys in bed but also try with different girls. Some bisexuals sometimes slide toward lesbianism but more often remain universal in bed.
How to determine that your girlfriend is bisexual?
How do you find out that you are dating a bisexual girl? Maybe she herself is dating a bisexual woman? Here's what to do:
Women perceive other women as rivals. They look for shortcomings in them, joke over them, ironize, and criticize. If your girlfriend does not do it, then it's weird. Does your girlfriend admire the female beauty of some people? Draws attention to the delicacy of their legs, breasts, hips or a cute little face? Often bisexuals have more "masculine" characteristics and look (short haircut, manners, behavior). Sometimes girls tell their men about lesbian antics in the past. What did she mean by that? How do you know that your girlfriend is bisexual? Follow her! You will be helped by a hidden camera, microphones, reading personal correspondence and other espionage passions. Often, many girls themselves confess their inclinations to bisexuality.
Ask her: "Do you have sex with a girlfriend?" This can then be turned into a joke. She can lay out everything! The fact that women are hard to keep emotions and secrets to themselves. She will make it a direct text or allusions. Confessions happen after sex, in a state of intoxication, while watching porn.
What if your girlfriend is bisexual?
So now you ask yourself, how to date a bisexual woman? Should I? Is this weird? Well, there are three ways out of such a situation: do not pay attention, break up with her, allow and participate.
1. Do not pay attention to the girl's bisexuality
Bisexuals are considered to be more "faithful" girlfriends. The fact is that for "adventures" they lack another woman. 70% of men believe that sex with another woman is not treason. Some men condescendingly treat these pranks of a girl and try not to pay attention.
2. Break with a bisexual girl and leave
Some men think that the sex of two girls is treason. This is usually a man of an older temper. They require a woman to take the path of true and stop her bisexual path. It ends with separation or female dissatisfaction.
3. Allow and participate in WMW sex
One of the main sexual fantasies of men is a bisexual girlfriend. The most popular advice from men in this situation: "Invite a girlfriend to a girlfriend to visit, drink some wine together and have sex together until unconscious."
In life, there are situations where a man finds his girlfriend in bed with another woman but does not have time to get angry. His girlfriend, trying to save the relationship, immediately draws him into a threesome. A man turns out to be an "accomplice" and it becomes stupid to blame anyone. Sex threesomes will be the norm in such a pair.
Most men, after some confusion, believe that bisexual woman dating is a gift of fate. Bisexual girls are much gentler in bed with men than women with the usual orientation. In WMW sex the man can observe or take an active part. Often a man can have sex with another woman.
What advice can we give if your girlfriend is bisexual? You always have time to go and find another girl. In the meantime, have a threesome sex. This will be your reward for her "cheating". But you might like it ... Is your girl bisexual? It may be terrible, but it can be wonderful. Which side to choose and what to do, you decide only yourself. The main thing is to be happy ...
Bisexual dating tips
Do you have any questions or doubts on how to date a bisexual, keep on reading then.
1. Don't bother thinking about tips on how to date a bisexual girl
While it may seem counterintuitive, by doing so, you assume that you have to adjust your habits and ways of doing things to a bisexual girl. While no changes should be done in actuality. There is nothing that differentiates heterosexuals from bisexuals, other than the sexual aspect of life.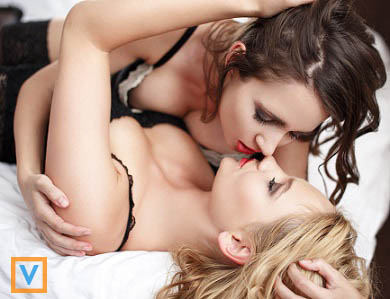 However, if you are still unsatisfied, read the following tips.
2. Understand your partner, know what it's like
Bisexuals are attracted to two sexes, yet they are not attracted to all the people around them. They have their own standards, don't consider them as sluts and that's it.
3. Understand what being bisexual is
They are not simply transitioning from liking one sex to another. However, just know that it's feasible that your partner may eventually turn to being gay, lesbian or hetero.
4. They are not indecisive or confused
They are self-aware, they are not selfish or immature. The only thing about them is that they are attracted to two sexes. They are not aliens. It is stupid, to say the least, to think that bisexuality affects their character in any way. Accept in the same way as some like sour, some like sweet, some like cold, some like warm.
5. Don't be jealous
While they are attracted to both sexes, they don't double their sexual desires. Their standards are higher because of all the options open to them. Don't let your paranoia ruin your relationship.
6. Simply be openminded
Bisexual dating sites
So, if you have answered the question "would you date a bisexual woman" and the answer was yes, then congratulations! There a lot of bisexual dating app and sites to be found online. While we've enlisted just a few, remember that bisexual women dating site is not a rare thing to find, there are a lot of them.
OkCupid – free, pick orientation, has an app for IOS and Andriod.
Tinder – free, the most popular dating app in the world, takes a minute to set up, it's simple, you can just browse both men and women. Their app is available for both IOS and Android.
HER – an LGBTQ focused dating site, free to join.
Hornet – easy to use, free.
We will go more in detail about one particular dating service called PlanetRomeo, the above are already famous and well known, but this one has grabbed our attention.
PlanetRomeo is the largest German international dating service for gay, bisexual and transgender people. The site, founded in 2002, currently supports 25 languages and has more than 1.4 million registered users worldwide. The main drawback of the resource is that many of the usual services, such as storing read messages, are paid.
"We are bisexuals, and we are bisexually governed!" - claims PlanetRomeo. Almost all the employees working in the service team are gay, bisexual or transgender, and those who do not meet these categories have a "cheerful disposition". The main principles of the company are: tolerance, respect, openness, and freedom of self-expression.
Particular attention is paid to the care of the health of its visitors. As a partner of leading medical organizations providing advice and assistance to specialists in various countries, the site provides health advice. In addition, since 2009, the resource has its own charitable foundation PlanetRomeo Foundation, which supports human rights projects in countries with high levels of homophobia.
Don't forget that social networks are filled with bisexual groups, of many types, for many goals. Either dating, serious relationships, or else. In our opinion, social networks offer the biggest variety of options and possibilities.