We all know how dates work nowadays: you look for a site to meet girl, find the one worth going out with, work on your jokes, plan how to compliment a girl, and she gets excited about your cute messages. And voila! You go out to a restaurant, movies, night club, or any other place. But suddenly the routine comes, and your meetings are put on a pause. Does it necessarily have to be like that?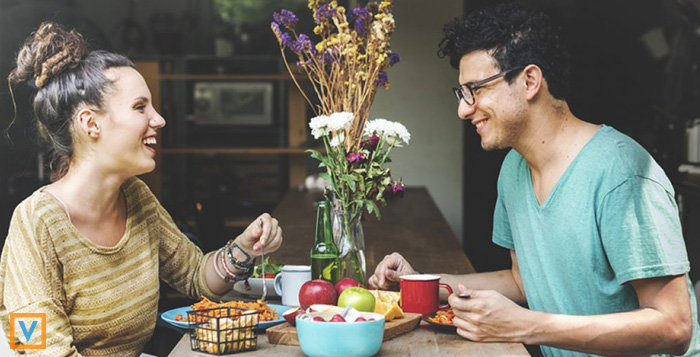 How to Plan a Perfect Romantic Home Date Night
If your couple dates happen pretty rare that doesn't mean they are less important than any of your other activities. Moreover, we strongly believe you should find time for them even when you have a lot of exhausting work to do. It may be a good way to get relaxed with your loved one. Not to mention all the advantages it can bring to your relationships. Dates will easily bring both of you closer and keep your romance alive.
But what to do if the weather leaves much to be desired, a pandemic is raging around, and you have to stay at home or you just not a fan of going outside? Don't be upset! Home can be an even better place to spend time together, where nobody can interrupt you, and there will be no rain on your parade. Date ideas for when you're staying home was created just for you. And we'll help you with that.
First of all, everything needs a thorough plan. And this special meeting is no exception. So before we start talking about the date night at home ideas for couples and fresh ones, here are some essential steps to plan it.
If you aren't a spontaneous person, but you don't want your night to feel routine, plan everything in advance. Planning is highly important, especially if your romantic evening for some super-special occasion falls on some anniversary. Choose the right timing. It will bring the right mood and help you concentrate on having fun.
Make a cute invitation. It will also help set the right mood. A cup of coffee in the morning, a cute flower with a cute memo, or romantic notes, hidden around the house, will tackle the job perfectly. But stay spontaneous! Don't open all your cards about the upcoming activities. Intrigue and warm up the interest.
Think about your partner's preferences. Make sure this night is all about her. Of course, some ideas for date night at home may be an oldie, but details can make this occasion unforgettable. Pick a special dessert or order a meal, choose something from the date night ideas at home list, use your partner's favorite color scheme, etc.
Focus on each other. Put away your phones, laptops, and other gadgets. Call all your relatives and assure they won't bother you tonight. Make sure you put all the phones on silent (or better turn them off). Trust me, it will be very helpful in your situation.
Don't forget to create the atmosphere. Think out the music! Some smooth jazz in the background will melt her heart and make the head spin even faster than a glass of champagne, wine, or (who knows) beer. By the way, make a note to buy some drinks. Don't forget to buy such small but important stuff as ice for cocktails, straws, a lighter for candles, etc. Perfection is in detail.
Everybody enjoys gifts. It doesn't matter what it will be. You can create a playlist full of nostalgic favorites, buy a book or flowers. The point is a present reflects all your feelings and love.
And last but not least, make your place clean. No rose petals, flower vases, candles, or the most romantic date ideas at home will save your rendezvous if the place is a mess. A fresh place will tell a lot about its owner. Be neat and comfy.
10 Fun and Romantic Home Date Night Ideas
If you are done with the preparation and have a strong desire to spend the night amazingly it's time to look through the 10 best at-home date night ideas for couples.
1.Throw a karaoke night
It would be tritely if we advised you to watch Netflix (though it is a nice idea too). So let us present to you one of the funniest at-home date night ideas. Singing can bring you together and even let you discover some hidden talents in your beloved one. Don't be upset if you don't have a special karaoke program or microphone. Just turn on YouTube, find lyrics of your favorite songs, and have the funniest night ever.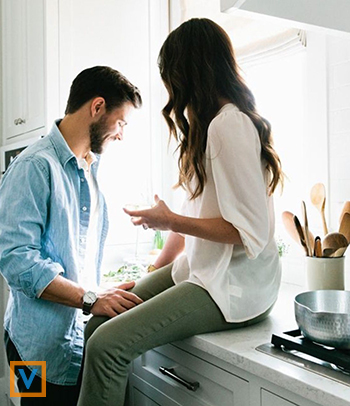 2. Enjoy the food
Tell me who doesn't like delicious meals? But who likes cooking? Trust me, cooking as a couple is fun and has nothing in common with your everyday cooking. Share this "hobby" and cook together! It may be some random recipe or travel-inspired dinner. The later means you choose a country you've wanted to visit and cook something inspired by that country. For example, paste or pizza for Italy, sushi for Japan, nacho for Mexico, or everything at once! You can also challenge each other to cook some special dishes and do something special in the reward. The kitchen brings together in a very tasty way. After everything is done, don't forget to make your night more intimate and … feed each other!
3.Learn how to dance
Yes, a crowd of people in a night club may be annoying, while private dance classes show all moves too fast. Don't give up on dancing if you're both into it. Your place may turn into an amazing place to dance. Turn on Dirty Dancing, Step Up or Dance With Me (every dancing movie would be fine), make pauses, repeat the moves, and enjoy your night.
4. Make a memory night
Set up one of the most touching, nostalgic, and cute at-home date night ideas. Take out all your photographs and videos. Make a short movie from the pieces you found. Write out a story about how you met your partner. You can write some love letters for each other like Fifty reasons I love you, make special plans for your next anniversary or a romantic weekend. Recall your good moments. Be ready to see the tears of happiness.
5. Get crafty
If you and your soulmate are people of art then why not? Try to knit something, make some origami, write a song, decorate tea mugs, or paint a caricature or a landscape on a piece of paper.
6. Play bartender
Not only food can be made and eaten in our list of home date night ideas. You can experiment with drinks as well. Create your mixed drink infusing everything you want and have a toast (don't forget to put down the components of your drinks to repeat it on your anniversary).
7. Have fun
Here you can do everything you want. Play some board games adding some intriguing surprise for the one who wins, take out twister, put a puzzle together, have a pillow, food or whipped-cream fight, build a fort, play a guessing game, take funny selfies and upload them into you Instagram or Tik-Tok. Finally, just have your favorite video game marathon. It's up to you to decide.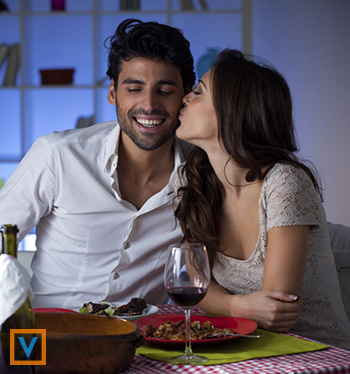 8. Movie marathon
Which list of at-home date night ideas would miss movies? Stock up on popcorn and watch as many as you can. You can even choose some theme, like, for example, "romance," and choose the movies accordingly. This will make your evening more thematic and thought-out.
9. Visit a museum
Nowadays you can do anything from your house. Many museums have some online collections, for example, The British Museum in London, The Louvre in Paris, The Dali Theater, and Museum in Spain or Vatican City Museum! So, sit together, choose a country and museums you want to visit, find it on the Internet and get inspired by art (you can even visit one not virtually later)
10.Spa-night
And, finally, here is the most romantic out of all the ideas for date night at home that can be relaxing, romantic, and with the lower price tag. Hug, touch, snuggle and cuddle in front of the fireplace, kiss her hands, and brush her hair. Give each other a gentle massage, do face masks, and take a bubble bath with rose petals for the grand finale. Invest in cute slippers and spa style robs, bath bombs, scented candles, nicely scented bath accessories, massage oils, lotions, and soft towels.
Well, now we've done everything we could. It's only for you now to decide which idea you want to put into practice. Well, not necessarily one of them, you may choose several. This way you can keep your relationships fresh, hot, and passionate. Just don't forget to add some personal details and take into account the personal preferences of your beloved one. Good luck!